YOUR BALLOT IS DUE MAY 18 BY 8 P.M.
You and other voters will elect board members for the college, the Port of Astoria, school boards, and more in the county's May 18 Regular District election. Thanks to the Clatsop County Democrats and its Campaigns and Elections Committee for compiling candidate information on their web site. INCO isn't affiliated with the Clatsop Democrats, though we share many values and goals.

If you haven't received your voter information booklet and ballot, or if you have questions about your ballot, contact the Clatsop County Elections Office, 503-325-8511.

Postmarks don't count, so please take your ballot to an official drop box after May 13. Drop box locations are:
Clatsop County Clerk's Office, 820 Exchange St., Astoria

Cannon Beach City Hall, 163 E. Gower

Gearhart City Hall, 698 Pacific Way

Seaside City Hall, 989 Broadway

Warrenton City Hall, 225 S. Main (located in back parking lot off S. Main Court)

Knappa High School, 41535 Old Hwy 30

Jewell School, 83874 Highway 103
Voters can check to see if their ballot has been received by the local elections office by going to www.oregonvotes.gov/myvote. Confirmation that a ballot has been received is usually posted within 48 to 72 hours.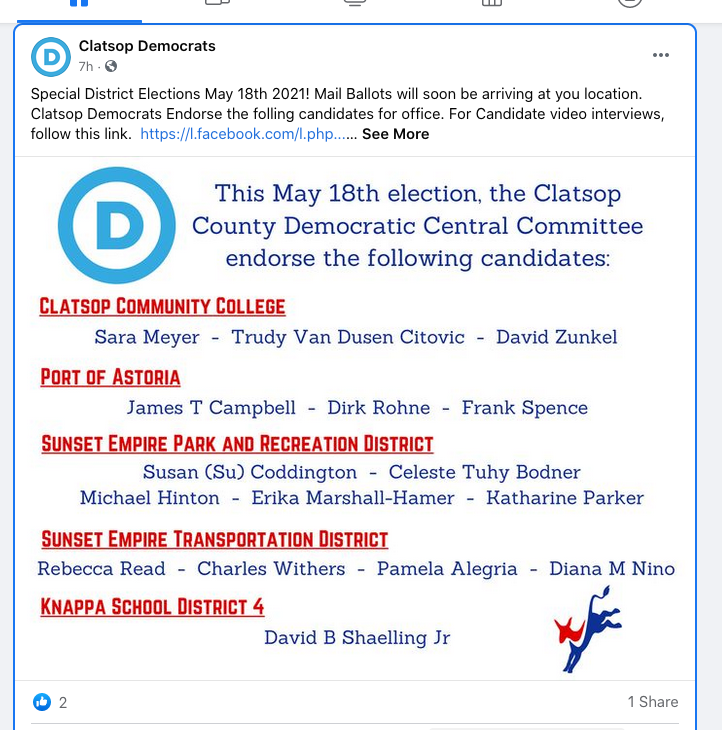 BE A VOTER!
LOOKING AHEAD
Trump was the GOP presidential nominee twice.
He lost the popular vote in 2016 by 2.8 million votes.
He lost the popular vote in 2020 by 6.8 million votes.
During Trump's tenure, Republicans lost control of the House and Senate.
He is the only president to be impeached twice.
He is the only president whose favorability ratings never rose above 50%.
His average approval rating was 4 points lower than any of his predecessors.
On Thursday, Senator Lindsey Graham sided with Trump over Liz Cheney, saying, "The Republican Party can't grow without Trump."
Between Trump's inauguration and departure from office, the percentage of voters identifying as Republican dropped from 31% to 26%.
We have every reason to be hopeful, but no reason to be complacent!
-- Robert Hubbell, Today's Edition Newsletter, May 8, 2021
SB554 is sitting on the governor's desk awaiting signature! It requires a trigger lock or locked storage for guns and prohibits guns in state buildings. It allows local officials to ban guns in sensitive areas such as schools, airports, court houses, etc.

HB 2006, a bill allowing emergency siting of homeless shelters during the pandemic, has passed, also.
INCO and COIN endorsed both these bills.
YOUR INDIVISIBLE ACTIVISM MATTERS
COIN continues to closely monitor over 50 endorsed bills and asks all Indivisible members to write or call our legislators about these that speak most strongly to each of us. Contact info
is here.
HAPPENINGS
VIRTUAL
Tuesday, May 11
-
INCO South County Community Group Zoom meeting, 6:30 pm - 8 pm.
Please RSVP to
Kathleenannmacdonald@yahoo.com
thru Monday, May 10 for your Zoom link.
Saturday,
May
22
-
INCO North County Community Group Zoom meeting
, 11 a.m - noon.
Contact incoregon@gmail.com to get the Zoom link.
The INCO Write to Voters group will NOT meet this Friday, May 14.
The group Zoom open house for informal chat and writing to voters in special elections and for ballot issues resumes May 21 and every Friday from 3-4 pm. Pets and children are welcome. Contact incoregon@gmail.com to get the Zoom invitation from Bebe.
WRITE TO VOTERS: Special elections and issue campaigns need you year-round. You can sign up to write to voters at www.postcardstovoters.org or for general Get Out the Vote campaigns, sign up at
Vote Forward.
"Civics is not just knowing what is happening in the world, but knowing how to be better citizens of the world. There is no such thing as 'your side of the boat is sinking.'" — E. Johns